Ethyl alcohol is one of the most highly taxed products in the world today. Although it usually forms the basis of some of our favourite beverages, it is a lesser known fact that ethyl alcohol is also a key component of many industrial products, including as the sterilising agent in hand sanitisers. As we know, the messaging from health experts is to socially distances, wear a mask in public and to regularly 'wash your hands'. Whilst all countries have placed an excise tax on alcoholic beverages, most countries then apply an 'excise free' rate or at least a substantially lower excise tax rate where ethyl alcohol is used for industrial purposes.
With the near world-wide closure of our local bars, pubs, clubs, restaurants and cafés, many alcoholic beverage manufacturers took advantage of the excise tax concessions to turn their breweries, distilleries or their existing ethyl alcohol bulk stock into 'branded' hand sanitiser. Many consumers may be quite excited to see their favourite tipple now available in the super-market as a hand sanitiser! Other businesses have diversified and began buying up stocks of ethyl alcohol 'excise free' from manufacturers to take advantage of the increased demand for hand sterilising washes and gels.
However, excise officers all over the world have had their workloads increased markedly. To access excise free ethyl alcohol, there is generally a licensing regime to work through where applicants are required to satisfy their local revenue office that they are genuinely making hand sanitiser and will be able to properly account for all production and sales at the end of the process. This is then followed by the necessary audit activity that goes through the production and sales records to ensure the tax-free alcohol has been packaged as a hand steriliser and not as a 'duty free' vodka for drinking!
To be effective in sterilising, the alcohol content of hand sanitisers can be 70% by volume (or 140 proof) or higher, which is nearly double the strength of a whisky, rum or vodka, six times the strength of wine, or 15 times stronger than beer. Without an excise tax concession, then your 150ml bottle of hand sanitiser would be around half the price of your favourite 700ml vodka – and expensive way to prevent catching COVID from the last surface you touched.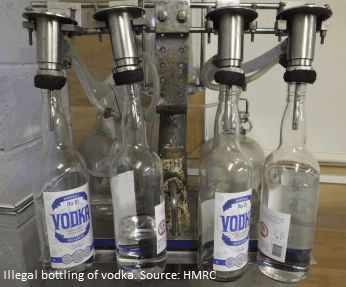 Whilst this story is a positive one of an innovative response to a health crisis by the alcohol industry, the hygiene industry and the customs and tax officials managing alcohol excise, it is important to end on a note of caution. Consumers should in no way contemplate drinking hand sanitiser, any sterilising product based on ethyl alcohol, or indeed any alcoholic beverage they believe is illicit. There may well be an increase in illicit alcoholic beverages with the increased volume of tax free alcohol being delivered for hand sanitisers, and anyone believing they have seen any in the market, should report their suspicions to the relevant revenue authorities.
Dr Rob Preece
23/06/20